TOURS
As we have seen before, there are many sites to see.
And to this must be added the museums.
It should be noted that to see all sectors, you need 4 days.
If you only stay for one day, you can see 3 sites and a museum. Be aware that you will not be able to stay a very long time on each site.
On a map, everything seems very close, but to get from one point to another you have to take small roads. Then you need to have time on site to soak up the atmosphere of the landing beaches, visit a few museums, have lunch… It should be a pleasant moment and not a race against time.
The ideal is to stay 2 days.
Thanks to our experience, we have noticed that tourists' expectations are different depending on their nationality.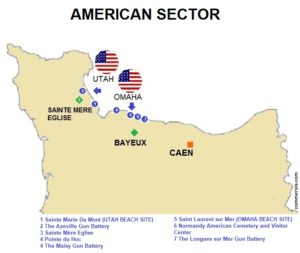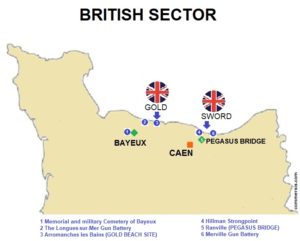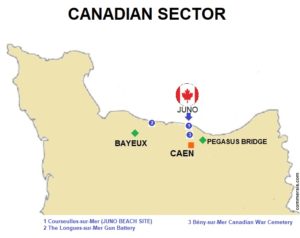 Usually we observe that Americans want to stay on the US sector, and the British People and Canadians on their respective sectors.
That is why guides generally offer these programs :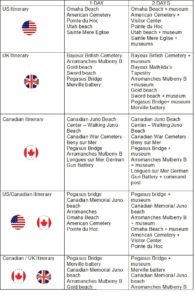 Click on the same image above
Suggestion 1
Ask yourself the right questions. How long will I stay in Normandy? Which sector am I interested in? In this sector, what are the sites and museums I want to see? You will then deduce the time you need to stay on Normandy.
It takes an average of 30 minutes on each Beach site, one hour per museum, 30 – 45 minutes per German bunker, 45 minutes per cemetery. Don't forget the travel time between each site.  If you do not take a guide, this implies that you know the history of the Second World War or that you are travelling with good documentation.
Suggestion 2
If you are not familiar with the Second World War and the history of the D Day, it is highly recommended to register for a guided tour. There are group tours and private tours. They depart from Bayeux and Caen.
Main group tours:
https://normandy-landing-tour.com/fr/nos-tours/
https://www.normandy-sightseeing-tours.com/
http://www.normandy-dday-tours.com/
For private tours we can send you a short list of the best guides, specialized on the landing beaches.
Be aware of the fact that those private tour guides are usually booked well in advance.
Some have their own car. They can pick you up directly from your hotel.
Thanks to them you will be able to have a tailor-made visit with a timing studied according to your desires.
Average fees are about $500 a day.
If you are looking for a quality trip that you will remember for a long time, do not hesitate to contact them.
A last point : A trip to the landing beaches is a trip for all generations. You remember the first scene of the movie "Saving private Ryan". The Veteran is in an American cemetery in front of the grave of one of his brothers in arms. And in the cemetery, he is surrounded by his children and grandchildren. A trip to the landing beaches is exactly that. It allows you to introduce younger generations to this incredible military operation and to evoke with them the sacrifice of all these soldiers for Freedom.