HOTELS


There are many hotels near the landing beaches.
Hotels of all categories and at all prices.
Many are listed on the Bayeux Tourist Office website. But not all of them.
Others are listed on famous online booking sites.
We recommend you to go through them because they can sometimes have very interesting offers.
If you want to save time, we can provide you with a list that includes almost all hotel establishments.
We have identified 86 hotels within a 13 miles radius of the landing sites.
We have tried to make this list as clear as possible. First, we have divided the landing beaches area into 5 zones : the Bayeux zone, the Sainte Mère Eglise zone, the Pointe du Hoc and Omaha Beach zone, the Arromanches and Juno Beach zone and finally the Ouistreham zone.
Within each of these areas we have listed all the hotels that we have included in a table.
You will therefore find the hotels, their level of comfort, their distance from the nearest landing beaches, and finally the price for a double room in high season.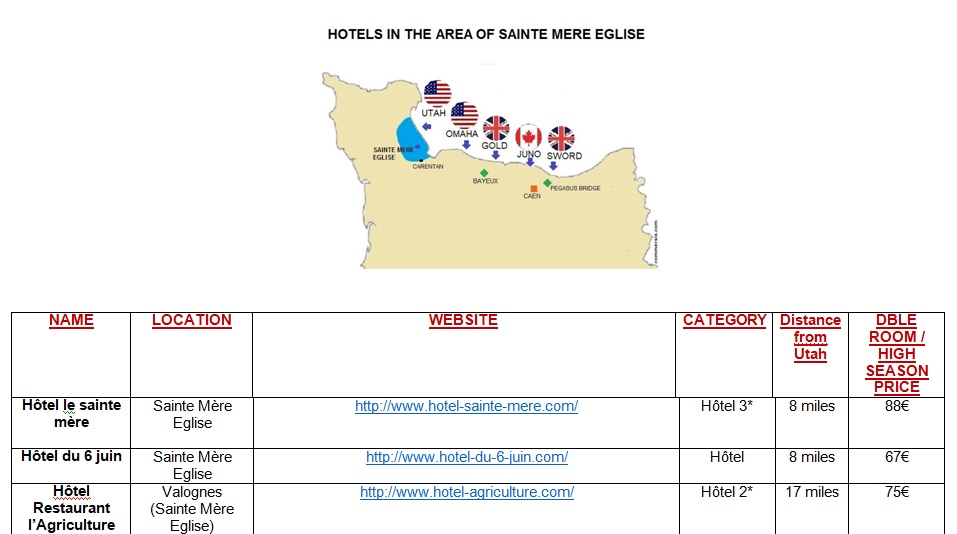 So please don't hesitate to ask us for this list !
Suggestion 1 : You must first plan your trip and the sites you want to see before choosing your hotel. Example: You are an American. You want to see Omaha first, then Utah. We advise you to take 2 hotels, one near Bayeux and the other near Sainte Mère Eglise. If you can't find the same comfort from one place to another, take a hotel halfway through the trip. In any case, it is necessary to reduce travel times because days on the beaches are tiring days.
Suggestion 2: Bayeux is quite central. City at equal distance from the beaches of Omaha, Gold, Sword and Juno. In Bayeux there are almost all categories of hotels and many B&Bs.